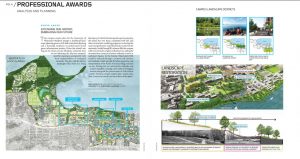 The American Society of Landscape Architects (ASLA) announced the 25 winners of the ASLA 2018 Professional Awards. Selected from 368 entries, the awards recognize the best of landscape architecture in the general design, analysis and planning, communications, research and residential design categories from the United States and around the world. The UW-Campus Master Plan, Extending Our History, Embracing Our Future, was selected for an 'Honor Award' in the Analysis & Planning Professional Awards category.
It was a campus masterplan, but it went very much into the culture of the place
The University of Wisconsin-Madison's 938-acre campus occupies a vital intersection between the capital city and Lake Mendota, and between the institution's long history and enduring legacy. Founded in 1848, the State's oldest and largest university features over 4.5 miles of shoreline; a compelling diversity of cultural, historic, natural and urban landscapes; and a range of past and future development impacts that require improved stewardship practices.
As an integrated part of its Campus Master Plan Update, UW-Madison merged a more traditional campus landscape planning process with a performance-based green infrastructure approach. Recognizing that the future health of the campus and lake are interdependent, this innovative, precedent-setting plan achieves significant, measurable improvements in stormwater management and water quality within a restored and more connected network of historic and culturally rich landscapes.
As the first landscape-focused master plan in University history, it also sets a new national standard for the integrated development of public and performance landscapes in a campus environment, providing a proactive benchmark for other institutions to emulate.
The September issue of Landscape Architecture Magazine (LAM) features the winning projects including the UW-Madison project on page 128/129.
Project A/E Team: SmithGroup, Hoerr Schaudt, Affiliated Engineers Inc., Kimley-Horn
This one's for you Peter!
Read the full article at:
https://www.asla.org/2018awards/452472-Extending_Our_History.html