One can find wonderful art all across campus. There are several formal art collections that can be enjoyed in places like the Chazen Museum of Art or the Wisconsin Union.  In addition, there are artworks located within administrative and academic buildings, as well as outdoor landscape settings. These "other" artworks are part of what we refer to as the campus art collection.
CPLA staff are responsible for  providing assitance with the care of the  campus art collection.  This may include: coordinating cleaning or conservation treatments; acquisition of new or gifted artwork; and maintaining a searchable database of the over 1800 artworks all across campus.
In addition, CPLA staff work with students and visiting artists on finding appropriate places for temporary outdoor art exhibits.
Check Public Art at UW-Madison for the location of some of our most prominent public artworks.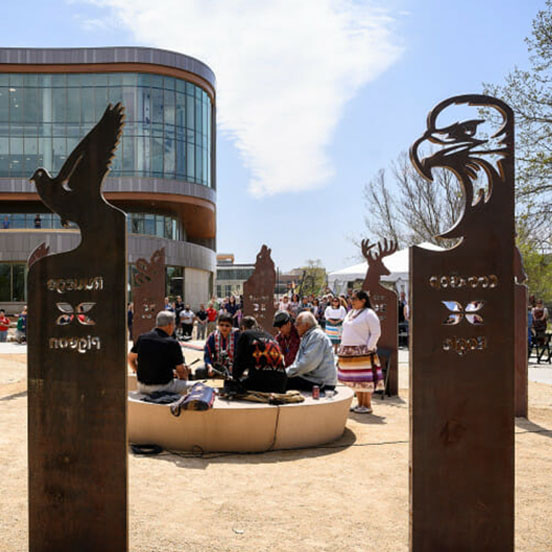 frequently asked questions
This is an accordion element with a series of buttons that open and close related content panels.
What is meant by "public art" on the UW-Madison campus?
In general, public art is exhibited in publicly accessible spaces and is created by the artist with a specific site in mind. Public art comes in many forms: statues, sculptures, mosaics, fountains are some examples.  Check Public Art at UW-Madison for the locations of some of our most prominent public artworks.
Who is responsible for cleaning or repairing art on campus?
Not an easy answer for this one…
While all art on campus is technically owned by the UW Board of Regents, artworks are acquired from many sources: the Percent for Art program, donor gifts, or departmental purchase, are a but a few options.  Responsibility for long-term maintenance therefore may reside with an individual  department, or it may be provided by Facilities Planning and Management staff.   Contact CPLA and we will help identify the best approach to getting artwork conserved or cleaned.
What do I need to know and do to exhibit temporary outdoor art on campus?
Review this temporary outdoor art policy and request form for information on how to submit a proposal for an outdoor exhibit. We want your outdoor art exhibit to be located where it can be readily viewed–but doesn't create any safety or management problems.
We highly recommend that outdoor exhibits be located in areas where there are minimal conflicts with underground utilities, landscape mowing and accessibility issues.  Consult this map for sites that most readily accommodate outdoor art.
How can I acquire new artwork for my building or department?
UW Madison departments and buildings are eligible to request art through the Campus Art Exchange. The Campus Art Exchange is an innovative program that provides fine art for public display across campus at no or little cost by circulating unused artworks in the campus collection. If you would like to request a work of art, please visit the Art Exchange gallery.  Visit often because the art inventory changes on a regular basis.
I'm looking for an artwork that I remember seeing years ago.  Is there a list of campus artworks?
An inventory of all 1800 artworks in administrative and academic buildings, as well as in outdoor settings, is maintained by CPLA.  This list does NOT include art pieces that are part of formal gallery or museum collections (e.g., the Chazen Museum of Art or the Wisconsin Union.)
If you are aware of a campus artwork that may have been placed in storage, and therefore was not available to be counted in the inventory, please contact us.
How can I donate art to campus?
While we appreciate gift offers of art, we need to be sure that an artwork is appropriate for the campus collection. We work with a Campus Art Advisory Committee on reviewing offers of art. Contact Gary Brown for more information on donating art. You can also submit your donation request through the Campus Art Exchange by completing a donation form.
What other UW art resources exist on campus?
Whom do I contact about my questions related to the campus art collection?